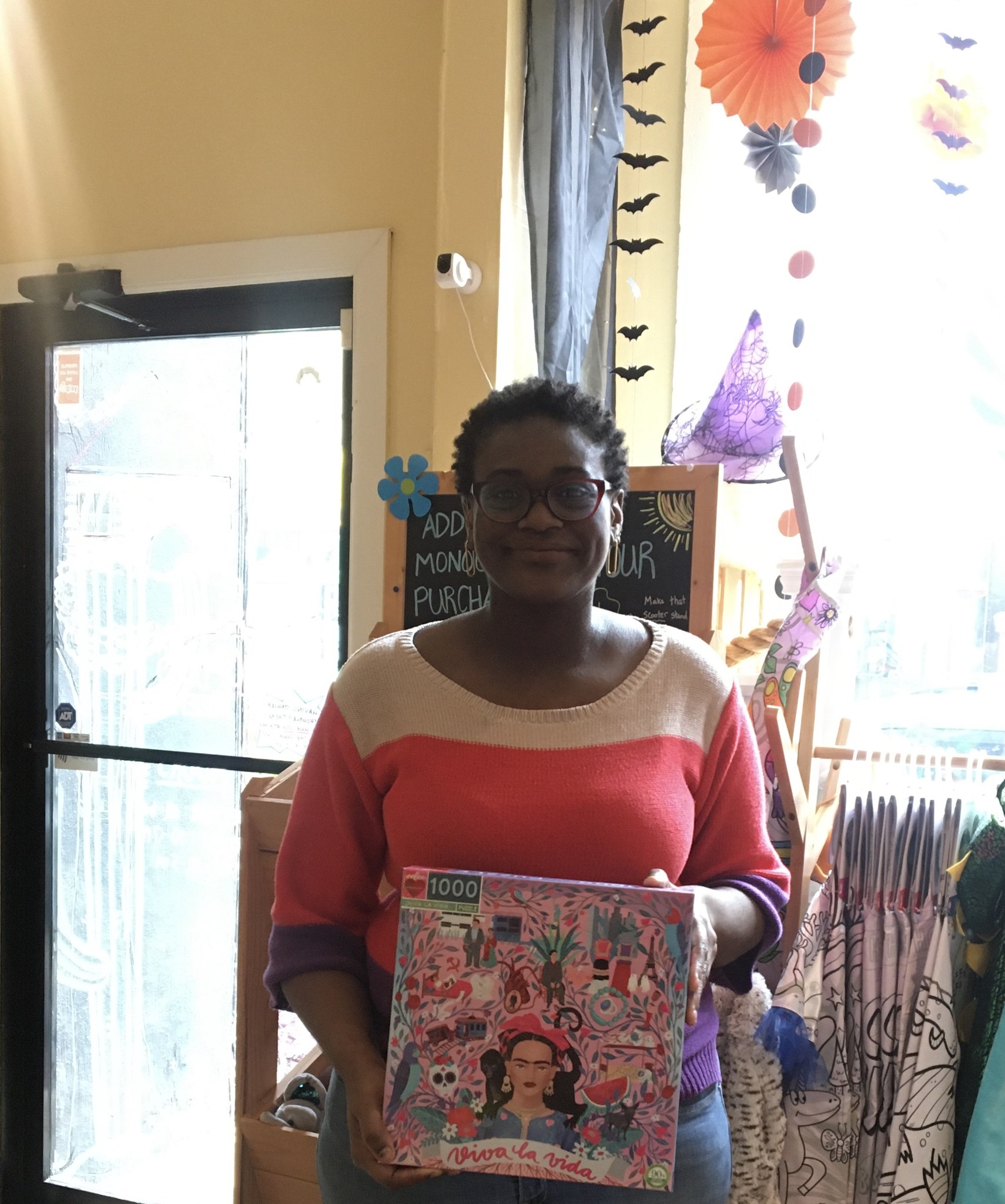 Alana, one of our newer team members, became apart of the Momo's team in August 2019. She is both a toy expert and fine artist - you may have noticed her work on our windows and boards. Read on to get the inside scoop!

Where did you grow up, and what do you like best about living in the city now?
I grew up in Lindenwold, New Jersey. I moved to Philly in the beginning of middle school. One thing, the best thing, about living in Philadelphia compared to New Jersey is how easy it is to commute without a car. 
What's your favorite part about working at Momo's? 
Being able to see and play with all the cool new games kid's have these days!
What's your favorite Momo's toy and why?
Maybe not a toy per say, but I love a good puzzle. At the moment I am working on eeboo's 1000 Frida Kahlo one! I love anything that stimulates my brain and makes me think, so the puzzles are my go to.
What is your favorite thing to do outside of selling toys? 
Listening to really good music while brain storming a new art piece. 
As a local Philadelphia artist, where in the city do you feel most inspired? 
Local parks, along the river, or at the zoo. Anywhere in nature where my mind can be at peace.
Do you have any new projects or exhibits coming up for your artwork?
I have so many ideas in my head; I am working on about 5 different projects at the moment. I'm hoping during the new year to have another solo exhibition! 
What's your favorite fall activity?  
Walking on crunchy leaves. 
Momo's 5th Anniversary is coming up, and so is Neighborhood Toy Store Day! Could you tell us about the events we'll have going on to celebrate?
For Neighborhood Toy Store Day we will have a lot of activities, games, and prizes set up at both locations so kids can come in and test out some products they may have been eyeing. To celebrate Momo's 5th Anniversary we are having special discounts going on and a performance from Judy Tudy, where kids can enjoy balloon sculpting, silly stories and awesome magic tricks!